| | |
| --- | --- |
| Best swimwear for hourglass shaped body | |
Sublimate your X or "hourglass" shape on the beach with our latest Brazilian bikini bottom, printed, bi-fabric, strappy or adorned with sequins, our crop tops, bandeaux, push ups or irresistible trikinis!

Refined and graceful with a wasp waist, you have an X or "hourglass" shape which every woman dreams of! For you, scanty Brazilian bikinis, trikinis, low-cut panties, scrunchy or frilly, high push ups, bandeaux with or without padding, crop tops and Bardot high necks, everything suits you down to a tee! Your silhouette lets you get away with all the eccentricities: fluo colours, fringes, see-through effects and sets of straps, diverse and varied prints, shimmering swimwear, adorned with sequins, pearls and other gems, the choice is infinite!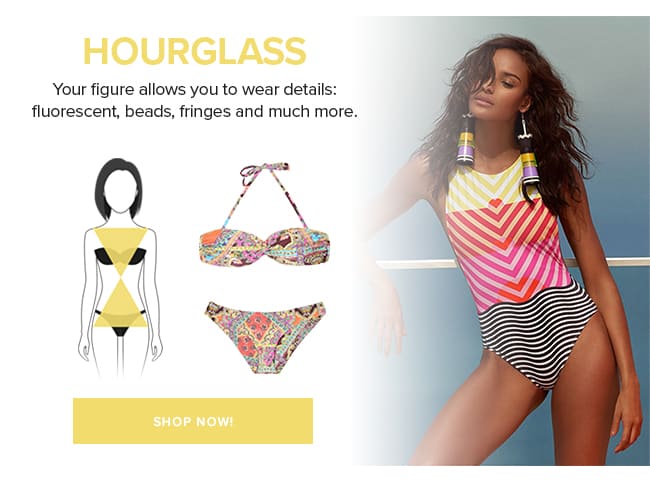 Summer is the time when we should enjoy and relax, detach from study, work or everyday life. Certainly we shouldn't worry about our bodies! Below we will give you a few useful tips on swimwear type if your silhouette is hourglass shaped. Lucky you!, this is the most harmonious, feminine and desired body type!
First of all: let's check if you really are an hourglass body shape!
- Your shoulders and hips are of a similar width

- Your waist is very defined

- You have this "X" shape typical of the feminine body

- Your body is proportional and harmonious

- You have a beautiful and curvy figure

Now,as you are sure if this is your shape, it is time to give you some beauty advice that will help you choose best bathing suits for your hourglass body figure. They will suit you perfectly and will help you flatter your natural feminine beauty.Sometimes you will find that this body type is also called a "X" body shape.
Now, a few simple tips concerning one-piece swimsuits:
- You can choose strapless or detachable straps models

- Good idea will be swimsuits with a bandeau top part

- Try a sweetheart neckline

- Monokini bathing suits with cut outs will enhance your shapes even more making you look insanely sexy

- All kind of patterns will be good

- You can choose colors according to your taste

- Choose top – bottom balanced models

- Anything will look good on you!
What bikini top for an hourglass body type?
- Go for strapless tops

- Bandeau top will be perfect for you

- Sweetheart neckline will enhance your femininity even more!

- You can choose flashy colors: Neon bikini

- Don't be afraid of eye-catching patterns
What kind of bikini bottom?
- Any kind of bottom will suit you well

- Brazilian bikini bottom will look stunning

- Bottoms with smaller sides will highlight even more your curves

- Side-tie is a perfect solution

- Vibrant colors and bold patterns are made for you!
What to avoid?
- Imbalance in top and bottom. You are very harmonious and keep it this way.

- Apart of that, you can wear whatever you want!
Here you will find a summary of recommendations for an hourglass shapedbody:
- One-piece swimsuits: strapless models, monokinis

- Bikini: choose sets to avoid imbalance!

- Tops: bandeau, strapless, sweetheart neckline

- Bottoms: any kind of bottom will suit you

- Patterns: Eye-catching and bold patterns on both top and top. If you choose calmer prints – choose equally calm on top and bottom.

- Colors: Eye-catching or plain on the whole set – you will look good in everything!

We hope that now bikini shopping will become easier and you will find your feminine figure will be even more flattered this summer!