Hammocks
Hammock is much more then it may seem! Original and traditional hammocks from South America and not only available for you thanks to Brazilian Bikini Shop! Single hammocks, double hammocks, hammock chairs – all in beautiful juicy colors and beautiful macramé knotting!
Multicolored

Blue

Gray

Orange

Beige

Navy
Find Your Perfect Hammock

There are many items you can use to enhance your time at the sand or pool. In addition to finding the right suit and beach bag, you may also want to think about buying a hammock for your summer holiday. Fortunately, there are many hammocks for sale. As you look at what is for sale, you will need to narrow down your options.


Two person hammock

Look at the Number of Users / Capacity.The first thing you will notice as you shop for a hammock bed is size. You can buy a 2 person hammock or a single hammock. A two person hammock is designed to be shared by two people simultaneously. This style of a double classic hammock is very popular. Many people like how versatile a double cotton hammock can be. You can snuggle up with someone you care about in these hammocks. However, you can also purchase a hammock for one person. These hammocks are going to be smaller. They will not be able to support as many people. In many cases, this is perfectly acceptable. If you intend to relax or even sleep on the hammock, then it might make sense to purchase one for solo use. A double hammock will generally be more expensive, but investing in high quality is more important than cutting costs.


Handcrafted organic cotton hammocks

Consider the fabric Used: Parachute, cotton, nylon, rope... Another critical factor is the composition of your new hammock. In many cases, you may see organic cotton hammocks. These high-quality hammocks are comfortable and durable. Plus, if you choose sustainable handcrafted organic cotton hammocks, you can be confident that your purchase will have minimal environmental impact. In some situations, the cotton may be woven with a macrame style. In addition to cotton, you may see some options with synthetic materials. While cotton is still typically used because of its extreme durability, polyesters may be added to cut back on costs. Many excellent hammocks are actually made in Brazil by hand. You may pay more for Brazilian hammocks, but they are definitely worth it.


Hammocks Setup Options

Check the Setup Options (tree, stand etc). Hammocks need to be properly situated in order to be safe and effective. The whole point of a hammock is to string it between two points in order to create a comfortable surface for rest. Traditionally, a cotton hammock would be tied between two trees. However, with modern ingenuity, you can buy a free standing hammock. This hammock style comes with a hammock stand. You set up the stand and hang the hammock between the two ends.


Portable & camping hammock?

You can also look for portable hammocks. These hammocks can be packed and taken with you. Look carefully at the hammock straps. See how they connect. Do you need a camping hammock? Will you be better served with a beach hammock? You can even buy a garden hammock. Check with the instructions to see if it is an indoor or outdoor hammock.


Brazilian hammocks

Finalize Your Choice for Personality. Finally, have some fun while looking for your hammock. Your style and needs matter. Brazilian hammocks are usually larger with a square shape that serves more like a bed. A Brazilian hammock bed is especially decadent. That is why Brazilian hammocks continue to be the most popular options on the market. In addition to a Brazilian style hammock, you can also look at swing hammocks. These hanging hammocks are going to be smaller. They are perfect for shorter lounging stints. Finally, you can pick your hammock for color and flair. Some options come with fringe. A hammock with fringe is a traditional style that instantly gives you a relaxing vibe.
Sort by
New in
Price Low to High
Price High to Low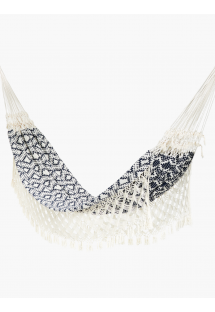 Hammock has a long history

It has been used for centuries in South America, long before the idea was adapted in Europe. It is still a very traditional piece of a furniture in many countries and lots people treat hammocks as beds. If you are looking for an original furniture to your garden or home think of a hammock!
They exist in many versions and in absolutely any color or pattern you can imagine. On Brazilian Bikini Shop website you will find many models of hammocks such as: single, double or hammock chair. You will find them beautifully decorated with macramé knotting. There are also simple ones without additional details.
The most traditional ones are decorated with colorful stripes. The shades and colors are usually very lively - they reflect happy and cheerful life-style of South American people. However, if you are looking for a plain and elegant piece – you are also in a right place! We have such pieces in our collection as well! Hammock can serve as a home décor furniture, it is excellent for relaxation and loved by kids. If you have a balcony or a garden – it is a perfect spot for one. What is more – you can always take it with you for a trip, camping or your countryside cabin! Hammock bed is perfect for lazy summer days. Spread it among two trees or get a hammock stand and enjoy carefree moments!


How to clean and wash your hammock?

As soon as summer season starts you probably start to look for your hammock. In hot summer days, you may use it more than your own bed! It is easy to stain the hammock – ice-creams, iced-coffee, soda pops, suntan lotions and much more. There is plenty of ways to make your hammock dirty but the question is: how to clean it? There are two ways to do it but remember: always before washing remove all the carabiners.

HANDWASH

It may seem that hammock hand washing is a HUGE challenge, but this is how you can do it: 1. Fill a big water container (bathtub or a pool for kids) with cool water, add mild detergent or a special soap for hammocks. 2. Use your hands and wash and a soft bristle brush to scrub dirty areas of the hammock. 3. Empty the container, refill it with clear water to wash away detergent. Repeat this step if needed. 4. Hang and dry the hammock on the fresh air.

MACHINE WASH

Many hammocks may be washed in a washing machine. It is definitely an easier way to do it. 1. Put the hammock into the washing machine. 2. Add some mild detergent and wash it with cool water using a gentle washing cycle option. 3. Never mix the hammock with other things (e.g. clothes) while washing and never use bleach, the colors will fade away! 4. Don't use softeners. 5. Hang and dry the hammock on the fresh air. We don't recommend using the dryer. Chose the way you prefer and enjoy lazy days in your favorite hammock!