Neon bikini
This summer, going unnoticed is out of the question! To attract all eyes on the beach, go for the "color block" trend with this neon bikini that will be perfect on you. Lemon yellow, bright orange or lively green: these sparkling, eye-catching colors will give you a splendid glow. Just as seductive yet more discreet, neon bikini embellished which fluorescent touches are in style this season. Take advantage of the trend to add some light to your summer wardrobe with Neon bikini... On the beach or at the water's edge, success is assured! If you are enough self-confident chose a high leg thong bottom and a front tie top!
Two Piece Swimwear

Bikini Bottoms

Bikini Tops
Bralette

Bandeau & Strapless
Padded top (Soft cup)

Top without padding

Padded top (Hard cup)
NEON BIKINI SETS

This season a neon bikini set is a must-have! Get a fluorescent bikini and join the celebrities' favorite trend this season. Sexy neon bikini is one of the hottest trends. Front ties top plus a high leg bottom is already legendary! No matter if you are a regular size or a plus size you deserve to have at least one neon bikini set at home. And if you prefer a one-piece swimsuit – go for one of our neon swimsuits! Match it with green, pink or black – a stunning effect guaranteed. Make an order for your dream neon bikini set on our website and enjoy online shopping Don't forget to see our sale section where we sell trendy bright neon bikinis at a special price. Get a fluorescent bikini set, a fluorescent bikini top or a pair of neon bikini bottoms. Check regular price and if you want to be notified on any reductions – sign up to our Newsletter. You will not miss any sale or special price days and you will get a free delivery coupon!


NEON YELLOW BIKINI

Neon is mostly associated with yellow color. However, there are many other colors! A neon yellow bikini top will match well with any neon bikini bottoms. It will also go great with other solid colors such as black, navy or red. Yellow Fluorescent bikini top is one of this summer's essentials. A neon padded bikini top will shape your cleavage and add volume to your chest. And if you shapes are rather curvy and generous go for a neon yellow bikini top with underwire. Take a quick view of all neon yellow bikini sets and chose the one that meets your needs! There is also a wide range of products on sale, so check out our product offer at the best price!


NEON BIKINI SET

Get a neon bikini set! A sexy neon bikini set will guarantee a huge success at the beach, at the yacht cruise or even by the poolside. Flashy neon colors attract attention and are one of the trendy essentials this summer. So get a neon yellow bikini set or mix fluorescent bikinis. Take a neon yellow bikini top and match it with any neon bikini bottoms. Or, if you prefer to match a neon top or neon bottom with one of the solid colors such as white, black, navy, red, grey, etc. Swim bottoms may enhance your bum. Chose a side tie, one-side tie, fixed, hipster, high waist or a high leg model. Create your own and unique neon bikini set! Take a quick view of our min order value for free delivery conditions.


BRIGHT NEON BIKINIS

Bright neon bikinis have been a huge success this summer. These bright colors attract attention and are quite daring. If you belong to fashion lovers and don't mind many eye glances go for it! Choose the shape that suits best your body type. If you have a small chest – go for neon bikini tops that will enlarge it fiscally (a padded top, a push up, flounces and frills) or optically (bold prints of bright and neon colors!). The same with neon bikini bottoms – choose the right fit for your bum! Any bathing suit in a neon solid color guarantees eye glances and attention. Feel free to choose one of our neon colors. Choose the color you like most.


BIKINI NEON COLORS

Fluorescent colored bikinis fashion comes and goes. Now it is a hot trend. So get a fluro pink bikini, neon blue bikini, lime bikini, flash orange, neon yellow bikini top or at least a pair of neon bikini bottoms and enjoy the summer! No worries, the neon fashion comes back every few seasons so you can enjoy your purchase for a long time! Neon green bikini, neon pink bikini, neon yellow bikini, and printed neon bikinis – check out or wide product offer and choose your favorite set!
Sort by
New in
Price Low to High
Price High to Low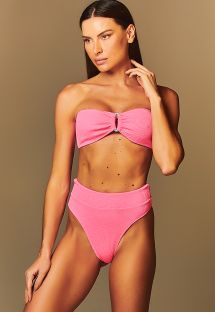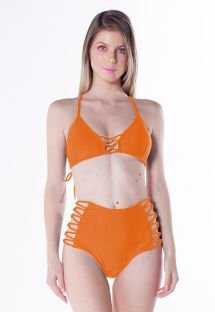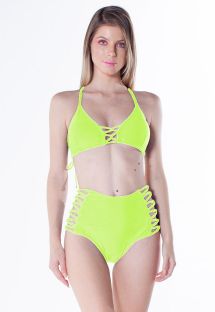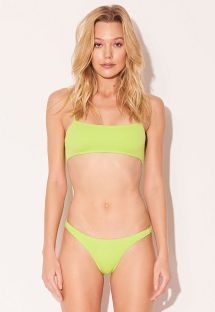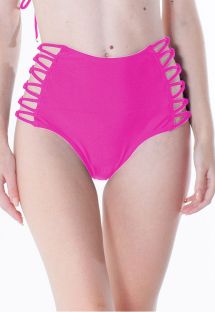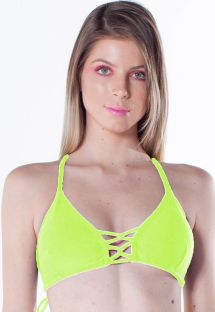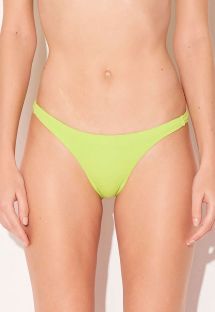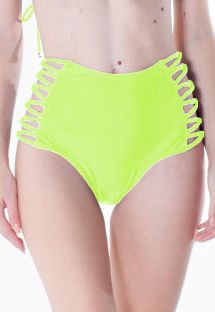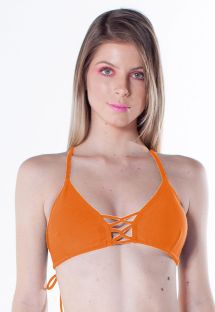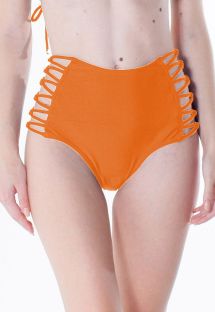 FLUORESCENT SWIMWEAR


Sexy neon bikini, fluorescent yellow bikini, neon Brazilian bikini, lime green, flash orange, and fluorescent swimsuits. We have it all and offer more and more every season. Take a quick view of our wide product offer. Order a low waist, high waist, high leg or thong bathing suits. Take q quick view of flash colors and flash patterns clothing. Get a beach dress or wrap a pareo around your waist and you are ready to conquer any beach! Read the min orders value for free delivery conditions.


SEXY CUT THAT WOMEN LOVE


While choosing fluorescent swimwear get the sexy cut that women all around the world love. Go for a push up if you need to add some volume to your chest, one of our plus size neon swimsuits if you are generously curvy, high leg if you want to flatter your legs, a high waist if you want to camouflage you love bundles and tummy. Check out all our flash, neon sexy collection of fluo bathing suits and other swim gear! Add your favorite products to the cart, take a quick view of our sale and promotions and place an order! Online shopping with Brazilian Bikini Shop is safe and easy!