| | |
| --- | --- |
| Best swimwear for apple shaped body | |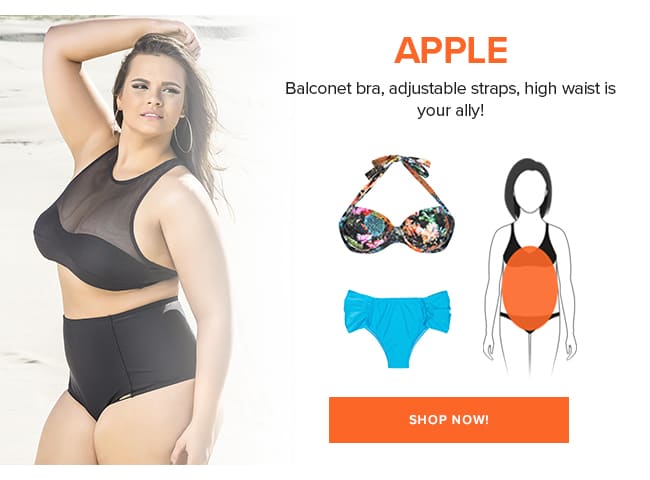 Summer is the time when we should enjoy and relax, detach from study, work or everyday life. Certainly we shouldn't worry about our bodies! Below we will give you a few useful tips on swimwear type if your silhouette is apple shaped. This kind of figure requires creating some optical illusion and distraction from your belly.
First of all: let's check if you are an apple shape!
- Your bust is rather generous (though it is not a rule)

- You have broader shoulders

- You have rather narrow hips

- Your waist is not define

- You probably have a flat bottom - You have great legs!

Apples have a tendency to put on belly fat, may have round faces, have humps on their upper backs, and may have thin legs. But no worries - we have a huge swimwear offer for you! Sometimes you will find that this body type is also called "O" body type or round.
Now, a few simple tips concerning one-piece swimsuits:
- They can optically shape your body!

- Choose swimsuits with underwired tops

- Try thicker straps – they will make your shoulders look smaller

- Try a built in control "flat tummy"

- Pick swimsuits with side detailing or slimming black solid panels running down the sides – slimming effect guaranteed.

- You can choose a print all over – it will camouflage your tummy

- Swimwear that gathers on the side or in the middle can create an illusion of a smaller waist

- Try tankini!
What bikini top for anapplebody type?
- Underwired top with thicker straps will enhance your cleavage

- Padded halter with narrow stripes

- Try calm patterns

- Go for an underwired tankini top!

- If tankini – try slimming models such as flat tummy effect, side-gathered pleating or slimming black solid panels running down the sides.


What kind of bikini bottom?
- Choose high-waist bottoms

- Lager side briefs

- Choose bottoms that out-design the top to focus the attention away from your middle

- Try eye-catching patterns

- Some models not only flatten the tummy but also lift your bottom – why not trying those ones!
What to avoid?
- Waistbands around your tummy

- Frills, tassels and flounces

- Prints and colors that draw attention to your tummy
Here you will find a summary of recommendations for anapple shapedbody:
- One-piece swimsuits: underwired models on thick straps

- Bikini: go for mix and match or tankini option!

- Tops: underwired models on thick straps (also in tankini version)

- Bottoms: lager side or high waist, some do have a flat tummy waits band buit-in

- Patterns: Calm patterns on the top part and more eye-catching on the lower. If one-piece: no patterns on the tummy unless vertical slimming onesor solid black blocks on the sides.

- Colors: Eye-catching colors on the bottom, more calm at the top and belly area should be in slimming, preferably dark colors.

We hope that now bikini shopping will become easier and you will find your perfect bikini for the coming season!