Tankini
One of the most popular, daring types of swimsuits to hit the beach recently, the tankini is a fashionable and fun choice for any woman. Like a bikini, the tankini offers freedom and flexibility. However, it also provides a bit more coverage for someone who wants to cover up for any reason. Many women report that the tankini allows them to feel more mobile when participating in beach sports such as volleyball, so it's no wonder that this versatile silhouette has become such a hit. There are a multitude of reasons why a woman might want to rock a tankini, and there's no doubt that this is an extremely stylish look.
| | | | |
| --- | --- | --- | --- |
| Plus Size Swimwear | Bikinis for big busts | Underwire bikini | Balconette bikini |
Hide curves with tankini


The plus-size criss cross tankini is the perfect swimsuit for those who want to follow the fashion. What exactly is it? High panties and a tank top! You will be well equipped this summer! The particularity of this swimsuit is the shape of the top that is long enough to camouflage gently your belly and hips. If you are courageous opt for a plus size thong bathing suit with a tankini top!
Sort by
New in
Price Low to High
Price High to Low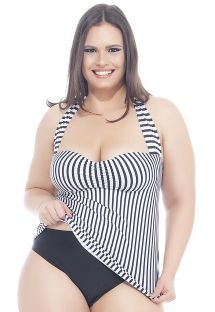 Plus-size tankini swimsuit

Check out our newest collection of beautiful and sexy women's plus-size tankini swimsuits! Latest models, cuts and prints – they are all waiting for you! Feel confident and comfortable thanks to Brazilian Bikini Shop!


What is a tankini?

Plus-size tankini is a wonderful option for curvy women. What exactly is a tankini? It is a swimsuit made of a tank top and larger side bikini bottom. It may come in many variations, for sure you will find strapless top and high-waisted bottom among them. It gives freedom, assures comfort and nowadays also enhances feminine body. This type for swimwear was introduced in late 90's and combines both: the modesty and comfort of a one piece swimsuit and convenience of a bikini as it is made of two pieces. Tankinis nowadays come in variety of styles, cuts, colors and prints and some of them include such features as a push-up bra, soft padding or removable straps. It is also awesome if you like active time at the beach, if you practice sports, go kayaking or rafting – you will appreciate its comfort. Curvy women will feel absolutely fantastic in our tankinis and you can adjust the set to your own needs. You can often choose separately top and bottom so that you find proper sizes and make your own color and print combination. More and more brands have plus-size collection in their offers as the finally started to cherish and appreciate feminine shapes. Choose one of our models and feel like a star at the beach! All our products are of a very high quality, beautiful and trendy design and will stay with you for several summer seasons! You may also use them at the swimming pool!