| | |
| --- | --- |
| Best swimwear for 8 shaped body | |
Focus attention on your luscious but well-proportioned silhouette with our selection of swimming costumes perfect for 8 shapes! Prints and solid colours, low-cut or high-waisted, take your choice!

With your wasp waist, your developed bust and hips, in a word the ideal silhouette, you are the envy of every woman. Brazilian Bikini Shop has selected printed and solid colour swimwear for you that will sublimate all 8 shapes and turn all the beautiful girls in bikinis on the beach green with envy.
Push-up bras and scarf halters with support are on your side to give you a lift plunge. As for the bottoms, avoid ties on the hips, cut out or not, low-cut or, on the contrary, high-cut to bring out your curves and to play the unabashed pin up retro-style!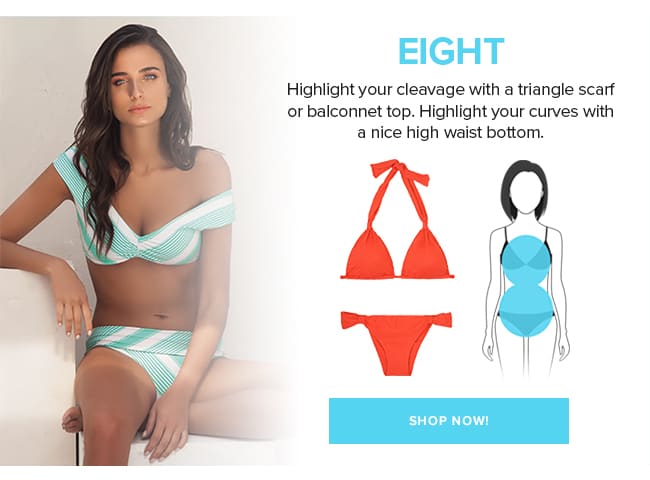 Summer is the time when we should enjoy and relax, detach from study, work or everyday life. Certainly we shouldn't worry about our bodies! Below we will give you a few useful tips on swimwear type if your silhouette is 8 shaped. Lucky you!, this is a veryharmonious and feminine body type!
First of all: let's check if you really are an eight body shape!
- Your shoulder and hips are of similar width

- You have bigger thighs

- You have rounded bottom and hips

- Your waist is well defined

- You have a full bust

- You have a feminine and curvy figure

If you are an eight figure shape, it means you are very proportional and similar to an hourglass shape, but your body is fuller. Our advice will help you flatter your natural feminine curves and avoid a few styling mistakes.Sometimes you will find that this body type is also called a full hourglass body shape.
Now, a few simple tips concerning one-piece swimsuits:
- You can choose detachable straps models

- If you go for straps – choose thicker ones

- Try a sweetheart neckline

- Choose models with built-in support such as underwire

- You can choose colors according to your taste, read our style advice Choosing Swimwear To Compliment Your Skin Tone

- Do not choose monokinis with side cut outs, your curves are good enough!

- Choose top – bottom balanced models

- Try to accentuate your small waist with a pattern or color
What bikini top for an eight figure?
- Halter and crop tops with thicker stripes

- Underwired models to ensure support to your bust

- Bandeau with detachable straps top will be perfect

- Sweetheart neckline will enhance your curves even more!

- You will look great in retro models

- Don't be afraid of eye-catching patterns
What kind of bikini bottom?
- Choose a classic bikini bottom

- You will great in a high waist model

- Choose pieces without extra embellishment

- You will look gorgeous in retro / vintage style

- Go for a fixed model

- Colors and moderate patterns are made for you!
What to avoid?
- Imbalance in top and bottom. You are harmonious and keep it this way.

- High-leg models and thongs

- Unnecessary side cut outs

- Detailing bust and hips


Here you will find a summary of recommendations for a full hourglass shapedbody:
- One-piece swimsuits: models with built-in support system for your bust

- Bikini: choose sets to avoid imbalance!

- Tops: halter, crop top, bandeau, detachable stripes, sweetheart neckline

- Bottoms: fixed, high-waist

- Patterns: moderate colors and patterns, similar at top and bottom. Accentuate your waist!

- Colors: similar colors for top and bottom that do not outbalance neither bust or bum

We hope that now bikini shopping will become easier and your curvy and feminine body shape will make you feel like s superstar at the beach!