| | |
| --- | --- |
| Best swimwear for rectangle shape body | |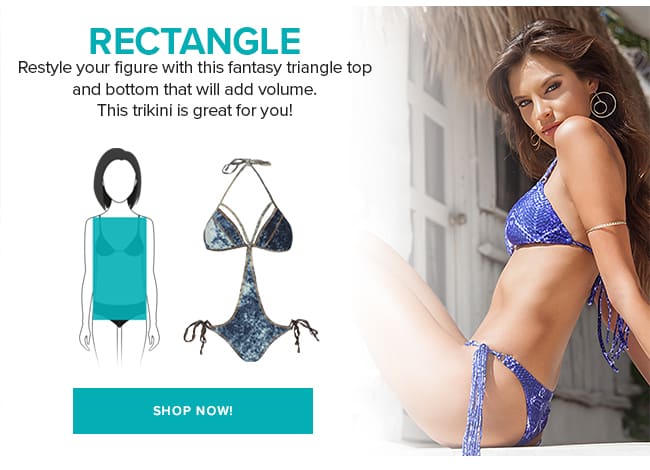 Summer is the time when we should enjoy and relax, detach from study, work or everyday life. Certainly, we shouldn't worry about our bodies! Below we will give you a few useful tips on swimwear type if your silhouette is rectangular. This kind of figure requires creating some optical illusion of curves.



First of all: let's check if you are a rectangle shape!
- Your bust and hips are relatively small
- Your bum is rather flat
- Your waist is not well defined
- Your upper and lower parts are the same size
- ou could define your figure as "boyish"
If those sentences describe your silhouette then you are a happy owner of a rectangle shape body! We have a huge swimwear offer for you. Sometimes you will find that this body type is also called "H" body type, banana or ruler.



Now, a few simple tips concerning one-piece swimsuits:
- They are made for you!
- Choose swimsuits with padded tops
- Try a
plunging neckline
- Flounces and skirted bottoms are your allies
- Go for patterns and cuts that create illusion of waist such as angled stripes. Stripes angled downward toward the belly bottom. This creates the appearance of curves
- Monokinis with side cut outs
- One-piece swimsuits that belt at the waist will help create more curves
- Flounces, frills and tassels for both bust and bum part will do the job!
What bikini top for a rectangle body type?
-
Padded top
, balconette or a
push-up
to create more curves
- Go for a padded halter with narrow stripes
- Choose flounces and frills
- Go for eye catching patterns
- Chose bright attention drawing colors
What kind of bikini bottom?
- Tie-side is a good solution
-
Skirted and frilled bottoms
- Bright and vibrant colors
- Eye-catching patterns
- Wavy edges will also add some curves
What to avoid?
- Vertical stripes
- One-piece swimsuits with shorts or high neck
- Bandeau tops – they may emphasize your lack of upper body curves
Here you will find a summary of recommendations for a rectangle shape women:
-
One-piece swimsuits:
monokinis with side cut-outs, one-pieces with padded tops, frills, flounces and tassels for both bust and bottom parts.
-
Tops:
push-up, balconette,
halter & High-Neck swimsuit tops
, flounces and frills
-
Bottoms:
tie-side, skirted, flounces and frills
-
Patterns:
making optical illusion of a waist, visible waistbands and belts, eye catching colors and patterns for top and bottom, angles stripes on one-piece swimsuits.
-
Colors:
Bright colors optically add volume. Go for it!
We hope that now bikini shopping will become easier and your stunning look at the beach will attract many glances!