| | |
| --- | --- |
| Best swimwear for pear shaped body | |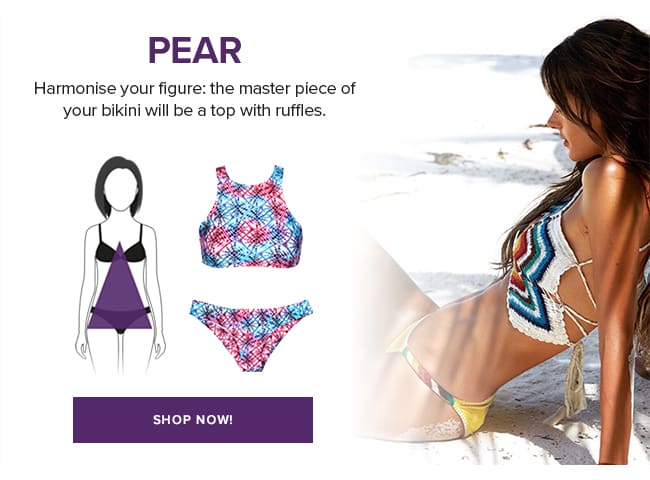 Summer is the time when we should enjoy and relax, detach from study, work or everyday life. Certainly, we shouldn't worry about our bodies! Below we will give you a few useful tips on swimwear type if your silhouette is pear shaped. This kind of figure requires creating some optical illusion of balance, drawing attention to upper body parts and deflecting it from the bottom.
First of all: let's check if you are a pearshape!
- Your hips are larger than your bust.

- You have a nice, well-defined waist.

- Your arms and shoulders are slim and proportional

- Your thighs are relatively bigger

- When you gain weight, it goes first to the legs, later to your tummy and upper body

Women with pear shaped body usually carry weight on the lower half of their body, around the thighs and hips. It is very common among women, so we have a huge swimwear offer for you.Sometimes you will find that this body type is also called "A" body type, triangle or a pyramid.
Now, a few simple tips concerning one-piece swimsuits:
- They can balance your silhouette!

- Choose swimsuits with padded tops

- Try off the shoulder models or boat-neck tops

- Wide V or U necks swimsuits will look good on you

- Flounces and frilled tops are your allies

- Go for patterns on the top part to draw the attention

- Choose plain and darker colors for lower parts of the swimsuit

- Swimsuits with side cutouts will sculpt your midsection and enhance your best feature
What bikini top for a pearbody type?
- Padded top, balconette or a push-up to create more curves

- Padded halter with narrow stripes

- Choose flounces and frills

- Go for eye-catching patterns and colors

- Bandeau and strapless tops

- Try off the shoulders or Bardot models
What kind of bikini bottom?
- Classic bikini bottoms, not too wide not too narrow

- Plain and darker colors

- If you like patterns, choose calm ones

- Fixed and hipster style (no side-tied)

- Try skirted bottoms that fall just below the largest part of your upper leg
What to avoid?
- Waistbands around your hips

- Frills, tassels and flounces on the lower parts

- Larger side bottoms or shorts – they will only highlight your wider hips
Here you will find a summary of recommendations for a pear shape women:
- One-piece swimsuits: monokinis with side cutouts, one-pieces with padded tops, frills, flounces and tassels just on the bust part. Bottom part plain and not attention drawing.

- Bikini: go for the mix and match option!

- Tops: push-up, balconette, halter, flounces and frills, off the shoulder, bandeau, Bardot

- Bottoms: fixed, hipster, plain and in darker shades

- Patterns: Only on the top part! Eye-catching prints will attract attention to your best parts!

- Colors: Bright colors optically add volume. Go for it on the top! Choose darker and plain colors for the bottom: Brown, navy and black bikinis.

We hope that now bikini shopping will become easier and you will feel awesome on the beach this summer!