| | |
| --- | --- |
| Best swimwear for inverted triangle shaped body | |
You have a V or "inverted triangle" shape? Flip for our very feminine swimwear; printed or decorated with pompoms, flounce and lots more!

It's often said that the V or "inverted triangle" shape isn't easy to feminise because, with its square shoulders and narrow hips, the silhouette is a bit on the tomboy side.

Brazilian Bikini Shop has selected high halters for you with dainty straps to tie around the neck, showing off your plunge line. As for the bottoms, you can play on your volumes with shorties, skirted-bottoms, with flouncing, bunny ties or embellished with various ornaments and contrastive prints.

If you have a penchant for one piece swimwear, the one shoulder is the one for you!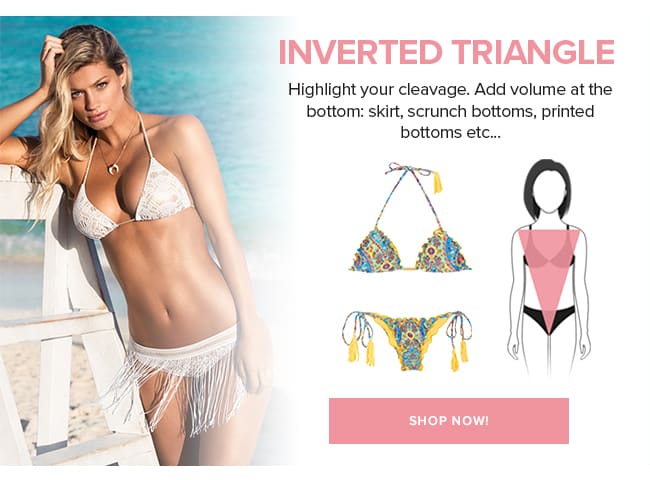 Summer is the time when we should enjoy and relax, detach from study, work or everyday life. Certainly we shouldn't worry about our bodies! Below we will give you a few useful tips on swimwear type if your silhouette is inverted triangle shaped. This kind of figure requires deflecting attention from your wide shouldersand drawing it to your lower parts.
First of all: let's check if you are an inverted triangle body shape!
- You have wide shoulders

- You have rather narrow hips

- Your body is athletic

- You have great legs!

- You may have a bigger bust (but it is not a rule)

So are an inverted triangle? If so, you have the most athletic-looking figure among all body shapes. However, It is quite common for catwalk models and athletes. We have plenty of great swimwear proposals for you!
Sometimes you will find that this body type is also called a "V" body type, "cone" or "strawberry".
Now, a few simple tips concerning one-piece swimsuits:
- Asymmetry – one shoulder models are your allies!

- Choose swimsuits with underwired tops if you have a bigger bust

- Try thicker straps – they will make your shoulders look smaller

- All over feminine patterns will prevent focusing on only one part of your body

- Eye-catching patterns at the bottom and plain top part will optically balance your body

- Try cut out monokini to create an hourglass shape!
What bikini top for an inverted triangle body type?
- Go for halter necks, scoop necks or square necks

- Try tops with underwire if you have a generous bust

- Choose thick straps to keep your bust in place and to slim your shoulders

- Avoid eye-catching patterns

- Plain, dark colors will deflect attention from your upper parts: Black bikinis & swimwear
What kind of bikini bottom?
- Choose bottoms with embellishments

- Frills, flounces and tassels will balance your bottom part

- Go for eye-catching, bright colors

- Try bold patterns or horizontal stripes

- Boyish shorts will create curvier hips
What to avoid?
- Any kind of embellishment at your top part

- High neckline: you do not want to look matronly

- Prints and colors that draw attention to your top

- Tiny bottoms


Here you will find a summary of recommendations for an inverted triangle shapedbody:
- One-piece swimsuits: asymmetry, monokinis with cut outs

- Bikini: go for mix and match option!

- Tops: halters, wide straps, scoop and square necks

- Bottoms: Larger side, shorts, embellishment such as frills, flounces and tassels

- Patterns: Calm or no patterns on the top part and more eye-catching on the lower. For one-pieces: feminine patterns or plain colors.

- Colors: Eye-catching colors on the bottom, more calm and dark at the top area

We hope that now bikini shopping will become easier and you will find your sporty posture will draw lots of positive attention!