| | |
| --- | --- |
| Best bikini tops for bigger busts | |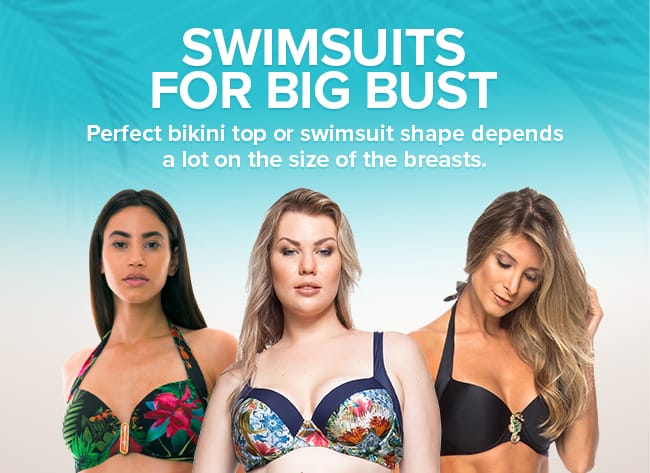 Swimsuit shopping is not only about the current trends and the styles we like but also about the fit. Bikini that flatters most our body is the one that works best with what we got. It should provide not only a good shape and proportions, but also the right support and comfort.

Here you will find our proposals of swimsuits for big bust.

Perfect bikini top or swimsuit shape depends a lot on the size of the breasts. To look good and feel great you need to take under consideration not only the size, but also the shape.

Ladies with generous chest shall opt for good support provided by the underwire swimwear tops. Drooping will no longer be an issue and the breasts will always be kept in the right place. Foam pads will provide the proper shape. Wide stripes will help to assure comfort and stability. However, some straps are more supportive then others. Thick and adjustable ones are always a good option, however the ones that cross on the back keep the pressure off the neck and also help to shape the cleavage. They also allow a little less coverage in the front. Halters are a good solution, you may tie them on the neck and lift your breasts as you want Be careful however not to tie too strong as after a while your neck may hurt. Bandeau with the removable neck tie is another solution. Hard cup will assure great shape. While sunbathing you can just take the ties off and enjoy an equal tan without any white marks. If you choose a model with a side boning you may be sure that the things will be kept in place.


Avoid: anything that make your bust look even bigger. Flounces, frills and fringe are not your best friends. Narrow stripes may be uncomfortable and cut into the skin because of the weight of your breasts. If you do not want to attract attention to your bust choose no eye-catching colors i.e. dark shades, plain colors, delicate patterns.

Choose: underwired models on thick and adjustable stripes such as: balconettes swimwear tops, halters, tops with crossed back stripes, bandeau.