Two-piece Swimwear
Discover our amazingly on-trend two-piece swimsuits, ultra fashionable and the best to laze in the sun! Printed or plain, choose your favorite model. Check out our high waisted two piece swimsuit, bandeau two piece swimwear, triangle swimsuit and other Brazilian 2 piece bikini styles we have selected for you. Choose your favorite bikini top and check out bikini bottoms. You will find a full coverage, hipster bikini bottoms, ruffle bikini bottom and cheeky bikini bottoms that are fashionable in the U.S.. String bikini appreciated not only in Brazil but also Europe (e.g. Italy). A wide range of trendy Brazilian two-piece swimsuits in various forms: bandeau, triangle, balconette, scrunch, high pants, with jewelry...A tankini is a beautiful summer design, ensuring full coverage to your tummy. With the specially designed fabric, it will make your body look stunning and comfortable. You can match it even with string models if you like - choose costumes that suit you best. Summer fabric used in our clothing collection is worn all over the world. If you have a nice waist - show it! Get one of our side ties - it will suit you even better than underwear! Mix and match our fully lined and top designer swimwear to create your own unique set! Original and colorful printed materials. Inspired and manufactured in Brazil and sold all over the world. Trust us! Marilyn Monroe also loved two-piece swimsuit! Inspired by Latin culture and manufactured mainly in Brazil. If you are looking for a special price check out our women swimsuit collection on sale. See free shipping orders conditions.
| | | | |
| --- | --- | --- | --- |
| Brazilian bikini | Thong bikini | Bikini Tops | Bikini Bottoms |
Removable Pad

Padded top (Soft cup)

Top without padding
Hipster

Tie Side

Tab Side / Larger side

High Waisted

Sliding bottom

Skirted

Boyshort
Multicolored

White

Green

Pink
How to choose a two-piece swimwear according to your body type.


No matter if you are curvy or have a small chest, a two-piece swimsuit or a bikini set is always a good choice! There are so many options: high waisted two piece swimsuit, string bikini underwear, tankini tops with underwire, neoprene bikini, neoprene bikini, cheeky one piece bathing suits, skirted swimwear and much more… Follow our advice in order to find your dream bikini.


Round, sexy and trendy in a 2 piece bikini set!


On the contrary to the belief that two-piece swimwear is exclusively reserved for a tall and skinny silhouette, today it is available in many shapes and cuts. It is also possible to choose the top and bottom of the same model in a different size in order to create a set that will cherish your figure. Choose a two-piece swimsuit and take a refreshing swim! We have many bathing suits to hide tummy and body shaping swimwear. It works just like tummy flattening underwear. Opt for plus size underwire tankini or a plus size racerback swimsuit if you want to camouflage and flatter at the same time your generous curves. We guarantee the top design and that you will attract the attention of all the men at the beach! We also have a section of beach clothing and accessories, a perfect place to get gifts for yourself and your best friends! Regarding bottoms – high-waisted bottoms deserve special attention this summer! Some models are equipped in a slimming belt for optimal support and an instant flat stomach effect. They serve as a good body shaping underwear. Forget the shorty bottoms which, contrary to what one might think, is not going to camouflage the curves, but on the contrary, it will only flatten your silhouette. This is especially true if you are short. Instead, go for a high leg model that will lengthen the legs subtly. If you prefer a full coverage, hipster bikini bottom, cheeky bikini bottom (very appreciated in the US)or high waist models we also have many options for you! If you are enough self-confident - go for string bikini (like in Brazil or Italy in Europe!). To add a little bit of exotic vibe a built-up bikini top may be in tropical or graphic prints. Exotic bathing suits have always been trendy. Plain colors are a great match with the top of your choice. Black, white or red – these classic colors are always a good solution. Pink, red, white and many more - shop the colors and mix match!


What kind of bathing costumes for women with big breasts?


Take the underwear example or Marilyn Monroe bathing suits. Wide and well-designed straps should ensure good support for any chest in a bigger size. A racerback bikini top is rather not for you, but if you like this cut, try a racerback tankini swimsuit. If your cleavage is generous you should try one of the plus-size tops with underwire. A tankini with adjustable ties is also a smart option. A body shaping swimsuit or a tankini with built in underwire bra is a must for all apple shaped ladies. The important thing is good fabric and the possibility of straps regulation to assure your comfort. Wide straps will ensure the support you need, just like in underwear. Check out our best-selling models such as tankini bathing suits with underwire! If you need to add some volume to your chest, try a padded halter bikini top (Marylin Monroe bathing suits style!) or a fully lined criss-cross top to add some fun and attract some men attention! If you want to hide our belly or you love to swim and do sports choose one of our tankini models!


Which two-piece for tall and slim women?


If you are slim and tall you can wear absolutely everything! We love shorty bikini and cheeky boyshort bikini bottoms! Match of a short bottom and a bandeau top will make you look sublime. Let go your creativity and make your own set choosing colorful prints! Don't hesitate to attract men attention and choose eye-catching details: tassels, frills and ruffles. If you have slim hips try skirted two piece swimsuits or a skimpy thong bottom. Show your belly and slim waist by choosing a low waist tankini or bottoms. Two-piece swimwear is a sexy swimwear! All colors are good for slim figure, but it would be perfect if you match it with your skin tone. Consult our skin tone guide before you choose a white swimsuit two piece, red swimsuit two piece or any other color. Beach superstar: Brazilian bikini is made for you! A real seduction ally, it characterizes with cut out bottoms, a bit similar to string but less revealing. The top consists of two triangles connected by a piece of string to tie on the side. In this Brazilian underwear style swimwear, your muscular buttocks and your legs will be beautifully highlighted. Apart of Brazilian cut panties there are other options such as: a ruffle cheeky bikini bottom, high waisted cheeky panties, cut out bikini bottoms – you can wear almost every cut. Have a colorful skirt with you to be ready for the unexpected.


Small chest: which 2-piece to choose?


To highlight a small chest and show what is the best about it, the padded triangle is one of the great classics, next to the bandeau model. For those who wish to make their small breasts look more generous, a balconette top provides an irresistible push-up effect. To add some volume to your top area try a fringe bathing suit top. Bathing costumes are often designed as underwear. Of course, the fabric is different and they are fully lined. However, the coverage cut is reflected! Beautiful design of wide straps swimsuit, that ties on the neck plus amazing accessories and high-quality fabrics shall satisfy all women. For those courageous ones, we propose string design, with just a little bit of fabric. Looking for gifts ideas? Maybe you will really like one of out fabric prints or a sexy design?

All you have to do is choose from the wide selection in order to find your perfect swimming costume that will match your style and personality. Looking for some summer clothing or gifts? Check out our sale section. Sign up to our newsletter - you will get special gifts: a 10% discount and free delivery!
Sort by
New in
Price Low to High
Price High to Low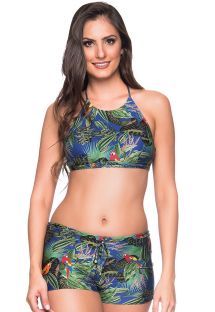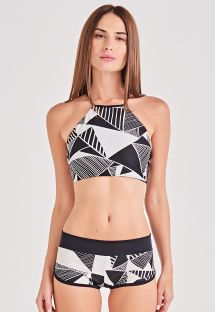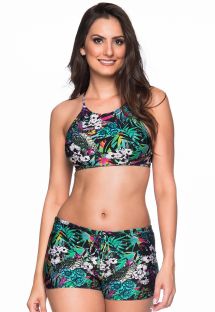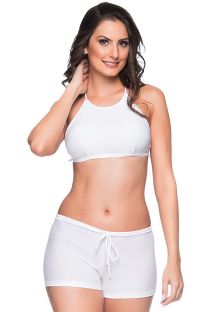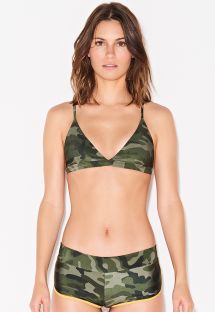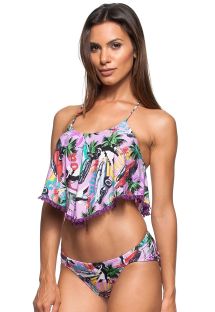 Bikini - yes! But which one?


Bikinis are worn worldwide by fashion icons, and it all started a long time ago with Marilyn Monroe. We keep close ties to the designers and follow beachwear and underwear fashion trends. Why both? The underwear design trends are often reflected in ladies swimming costumes fashion and on the opposite. In Brazil and other South American countries, a swimsuit or a two-piece are worn almost every day. What is more, the women there appreciate a deep cut. However, on Brazilian Bikini Shop, you will find the type of cut you need and feel comfortable with (from full coverage to string bikini!). When it comes to swimsuits for women, there is nothing like a two-piece bathing suit. Deftly the combination of a specially designed fabric and feminine curves makes the bikini one of the top choice among bathing costumes for women. Our alluring collection of bikinis exemplifies their popularity in several ways. First of all goes the amazing variety of brilliant colors, figure-flattering design and bold patterns. From fringe and tie-dye to ruffles, animal prints and lace. There are the details distinguish our extraordinary bathing suits. The pleasure of sunbathing and taking a swim in one of our bathing suits is an unforgettable, unique experience. If you are looking for gifts check out our sale section! You will find there carefully designed pieces that can be worn by your beloved ones. Don't forget about men - they will also appreciate fashion gifts of the best quality fabric! Surely you will find come clothing what will suit your men best. Best price and clothing designed by the best South American brands. Get gifts to yourself - maybe our favorite design is on sale now?


What kind of bikini for sports lovers?


Men and women love sports, so do you? Get one of our sports cut bottoms and a full coverage tankini top! Cross back solutions are on fire! If you plan to go for beach sports or swim in a pool, opt for the sports bottoms and tops such as a racerback bikini top. A tankini is great for sports, you can mix it with sports bottoms. We love ties of multiple positions. If you have some extra curves opt for a plus size rash guard swimwear. There are some bathing costumes models that have ties on the neck, on the back. Side ties in the bottom is also a good solution - it will adjust perfectly to your shape. You can add a feminine touch to your summer swim sessions by putting on a lace tank top over your sports set. Cross the limits of your imagination, mix match top designs and designers, fabric styles, flowers and straps! Wrap tops cross on your tummy or back - feel free to choose what suits you best!


Mix & Match bikini


Mix and match bathing suits and find your perfect combination! Make your own unique bikini set and choose sizes, cuts, colors and prints! Great choice, finest quality and newest trends – this and much more you will find only on Brazilian Bikini Shop! Mix and match swimwear is a perfect option for most of the women. Why? Because our bodies are different and we cherish this variety allowing combination of sizes on Brazilian Bikini Shop. Generous cleavage does not always go with generous bottom and other way around! And it is perfectly fine, we have bikini sets and you can mix the way you want! Sizes are not the only mix & match possibility. Now, you can combine different models into your own unique bikini set! In Brazil it is very popular to match color and patterns, bikini bottoms doesn't have to be in the same color as the top! The more creative the better! The same thing concerns cuts. You may easily match scrunch bottoms with crop top if you only feel like. No matter your choice, you may be sure that you are choosing the best quality and finest fabrics and that you purchase will serve you several seasons! And if you still prefere one-pieces try something different as a racerback one piece swimsuit or cheeky one piece bathing suits.