Simone et Georges
With great pleasure we would like to invite you for an adventure with Simone et Georges. First of all, Simone and Georges are siblings. Simone is from Venus and Georges from Mars. And this is definitely the best possible combination! Right after their graduation the brother and sister decided not to follow the usual path of finding a job in a corporation and went for a great trip… Direction: Kenya and Tanzania! This is where they discovered Kikoy – a traditional African cloth, which can be used in many forms and has various functionalities. They were amazed with this traditional product and decided to spread it all around the world so that everyone could enjoy its boon. This is how the brand Simone et Georges was created. Kikoy or kikoi is a word derived from swahili and means fabric. However, this term often refers to the sarong that men and women wear on the east coast of Africa.
Hand fan

Towels

Bags

Beach Cushion
Blue

Purple

Navy

Pink

Green

Orange

Yellow

Red

Brown
The siblings inspired by the African fabric have created a brand Simone et Georges that conquers hearts all around the world and gains more and more fans. Its key element is the Kikoy fabric, which is used to make many beach accessories such as towels, sarongs, beach chairs and cushions. The product range is still expanding and Kikoy's uses are as many as our imagination allows. Here's what we offer: Fouta, which is a word that in swahlili language means sarong, has dimensions of 165x95cm, may be washed easily in a washing machine at 30 ° C and is made of 100% cotton.

Beach towels can also be used and worn as sarongs because they have the same dimensions, but have a slightly different composition i.e. 65% polyester and 35% cotton. You can safely wash them in a washing machine at 30 ° C.

Simone et Georges beach cushions (26x40cm) have revolutionized siesta times on the beach. The pillow case is made of Kikoy material made in Kenya (100% combed cotton) and has a plastic inflatable pillow, which is placed inside. The pillow is put in a small sachet, so it is easy to take it everywhere as it takes very little space.

The beach chairs that Simone et Georges offers are truly exceptional. This is a combination of a beach mat with headboard. The material is wool and the legs are made of pine tree.
The functionality of this element is surprising. It is folded to the size of a French baguette! Once unfolded on the beach, you can sit on the material and have the support for your head and shoulders and if you want to lie down, simply take off the legs and use it as a beach towel (140x70cm). Simplicity and creativity in one!
Sort by
New in
Price Low to High
Price High to Low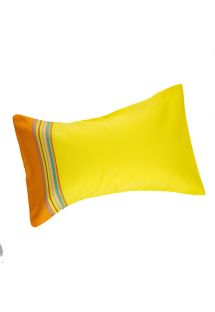 Brazilian Bikini Shop offers versatile beach towels, beach cushions, beach chairs and fouta (pareo).