Bikini Poko Pano
Each Bikini Poko Pano is part of a collection of sleek swimwear for the modern woman. Minimalistic lines are complemented with bold prints and bright colors for an upscale look on the beach. The eclectic stylings sometimes utilize unexpected accents and asymmetrical design, making each Bikini Poko Pano stand out from the countless other swimsuits on the beach each summer. Straps are often brightly adorned, and ties add fun and functionality. Strapless variations are expertly bound to provide support that looks as good as it feels. The sheer number of options for a Bikini Poko Pano ensures that every woman can find the right swimwear for a stylish beach outing.
Poko Pano was founded by the young and beautiful fashion designer Paola Robba in 1988 shortly after she graduated from high school. The name is a play on the Portuguese pouco pano, which translates into English as little fabric and refers to the fact that
brazilian beach bikinis
traditionally shows an abundance of skin. Paola Robba is a native Brazilian who grew up in Sao Paulo. As a child, she would fashion swimwear for her dolls to wear. Eventually, she realized that she could create swimwear that could be worn by actual people. However, Paola always wanted to be more than a simple fashion designer, so after high school, she studied business administration.
Sort by
New in
Price Low to High
Price High to Low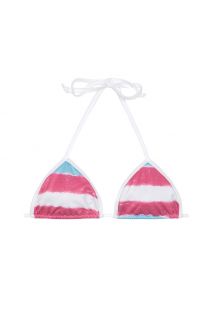 When she first launched her company, she quickly hired a seamstress to assist her with her designs, and they both worked long days in the office Paola created in her garage. For four years, Paola worked tirelessly to build her brand. In recognition of her base of operations, she dubbed the company Le Garage. She sold her bikinis to friends, family and a local clothing store in Sao Paulo. In an effort to bring some sophistication to the company, she eventually changed the name to what it is today. Poko Pano was finally established as a brand worthy of recognition in the world of fashion swimwear when Paola was invited to show her designs in the renowned Sao Paulo Fashion Week show in 2002. After the show, Poko Pano began to set trends in the swimsuit industry around the globe. The company's designs remain popular in Brazil but are also sought by fashion-conscious people in 20 other countries, which is evidenced by the fact that 40 percent of sales are exports. In 2004, the brand was brought into the United States through a partnership with the California-based wholesaler Seaside Brands Inc., and Paola launched an all-new brand called Paola Robba parra Poko Pano. In 2008, Poko Pano was introduced to a wider audience at the Mercedes-Benz Fashion Week in Miami, and the company has introduced its new line there each year since. Poko Pano and its signature mismatched pieces continue to be favorites among fashion-industry insiders and celebrities. The company's designs are often featured in such prominent publications as Us Weekly, People, Vogue, Elle and Sports Illustrated. Among the notable personalities who have been spotted wearing Poko Pano bikinis are Janet Jackson, Beyonce and Kim Kardashian.