Maryssil
Maryssil's swimwear products demonstrate deep, unwavering commitment to high standards of quality. The team at Maryssil uses innovative manufacturing methods to ensure that this brand's products are affordable. Additionally, this team aptly balances cost considerations with comfort and aesthetic values.

Under the leadership of Larissa Minatto, this designer brand continues to break important new ground. This organization has achieved acclaim by combining good economic value with undeniable achievements in aesthetic design. It is likely that this maker of swimwear, string bikinis swimwear and intimate apparel will continue to reach new milestones in the years ahead. Fans of bold colors and interesting textures should consider the Maryssil brand when shopping for gifts and planning for special occasions.
Founded in the late 1990s by Benjamin Minatto, the Maryssil brand has steadily been increasing its reputation by making sure that quality plays a leading role in the manufacturing of its swimsuits. Its investment in high-tech equipment as well as extensive research on the most innovative manufacturing techniques have allowed it to master digital textile printing, a procedure that allows reproducing unlimited colors and shades for its printed bikinis. The emphasis on quality does not detract from designer Larissa Minatto's constant efforts to design a variety of flattering bikinis that are as comfortable as they are beautiful. You will find a wide selection of bikinis in colorful prints, solid colors, or a combination of both that are crafted with style and a touch of elegance and offered at attractive prices that will allow you to treat yourself without feeling guilty!
Sort by
New in
Price Low to High
Price High to Low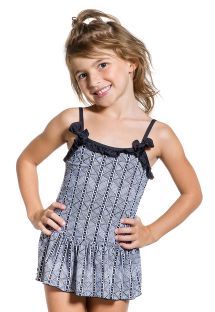 Maryssil is a recognized Brazilian bikini brand whose hallmarks are design, quality, and beauty.